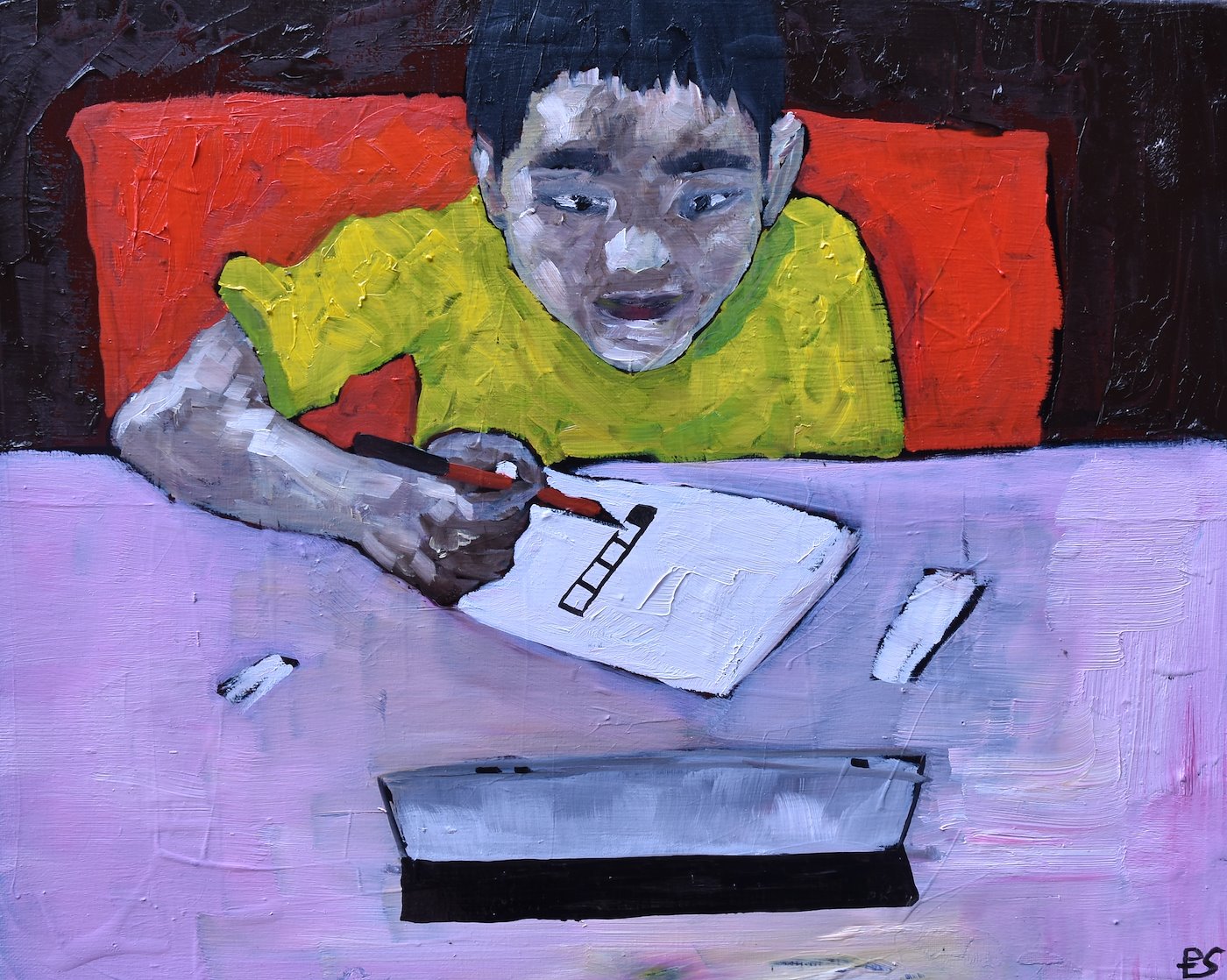 Reflections on the Making
As a social anthropologist and painter, my goal is to translate social interactions, constructions and paradoxes within visual language. I see the canvas as a 'heterotopia', using a term by Foucault, as another world within this world, mirroring and yet reversing what is outside; a space of experimentation in which the constructed mechanisms of social life are revealed. When I paint, I feel and think this, as if it was a basic thought there in the back of my mind. In terms of process, I generally first reflect on what I want to represent. The answer comes in the form of a mental image, which I then go to reproduce straight on to the canvas. Other times, I proceed with a preparatory drawing on paper, which I then copy on the canvas (while other times I work from a photograph). On some occasions, when I am particularly inspired or charged with some intense emotion, I simply 'make' without thinking about what I am doing (generally with a musical background). I like to see images and shapes flowing from my hand to the canvas, unmediated by a pre-established thought. While the resulting style from all of these approaches is similar, they originate from different mindsets.
            When I make, I generally feel satisfied and fulfilled. However, sometimes I get exhausted, because I often work non-stop until my work is completed in just one session. I usually only realise that I am physically tired at the end, since my mind is happy and energetic throughout the process. If instead I feel stressed or disheartened during the process, it could either be that I am trying to change my artistic personality, or that I am running behind a methodology that I cannot yet master. However, I understand that the struggle can be useful to become a better painter day by day. When things come naturally, I feel full of purpose and glad to see that I am able to express my voice and my ideas in a very personal way. I believe that the encounter with my new tutor and fellow students, all of whom are artists, has had a positive impact on my approach already, pushing me to be myself in a larger world of creators, in which each person does their part with their own individual ideas and abilities. 

            The materials that I use (oils, mediums, enamels, solvents and markers) are not very healthy and as such I try not to touch them and I work with gloves. However, I do use my hands from time to time to define the colours' texture. While protecting my skin and keeping the studio ventilated, I physically engage with my work moving around it, approaching it from different angles, scraping the surface of the canvas or rather smoothing it to obtain different sensorial effects. I see the texture of the painting as a crucial aspect of the artwork, as if it were a living being of its own kind, another dimension with its own senses.

Paola